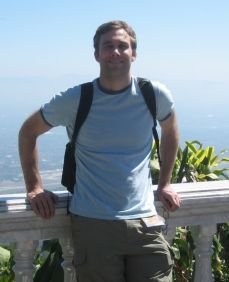 I'm a software engineer living in Cambridge, Mass. I grew up in Lexington before heading out to school at the University of Michigan (go blue!) where I graduated in 1998 with degrees in computer science. After college, I spent time living in Tempe, Arizona and Alameda, California before moving back east.
Hobbies & Interests
My hobbies include travel, sports, both cooking and eating, movies, all sorts of games, including backgammon, poker, trivial pursuit, etc. My favorite board game is Taboo, but Apples to Apples is really good, and in a very surprising way.
The most interesting book I read recently was Fortune's Formula by William Poundstone. It is a perfect storm of my interests, covering gambling (primarily blackjack), math/computer science, and investing. Here is a link to my shelfari profile for at least some of the other books I've read & found interesting.
My favorite movies include practically everything directed by Christopher Nolan or David Lynch, 12 Monkeys, Snatch, The Jerk, Shawshank Redemption, Primer, and Groundhog Day.
Writing
A couple years ago I took some time off from work to travel, and I also wrote a children's book. I don't think it's terribly good – could be, but needs a lot of work. I explored what it would take to get it published and decided that computer programming is way easier than publishing children's literature.
I really enjoy writing, and have a handful of short stories and ideas that I work on from time to time. I'll post things here whenever they get to at least a mostly finished state.
Sports
I love both playing and watching sports. My favorites to play are tennis, basketball and soccer. I also enjoy mountain biking and snowboarding. I recently started getting into triathlons (sprint distance) and have been using that as my main way to keep in shape. I don't normally love the solitary sports, but podcasts are getting me through the running and biking. Having a training partner for swims helps a lot; we mostly swim during the warm-weather months.
My favorite team (by far) to watch is Michigan football, but I also like Michigan basketball and hockey, the Patriots, and I have a mild interest in the other Boston teams. I'm just not that big of a fan of the NHL, MLB and NBA to care very much. I don't have a favorite soccer team, but I love watching international soccer and try to watch as much World Cup, Euro Championships, etc. as I can. I also like watching the Rugby World Cup (having a couple friends who are really into it helps).
Blogs & Podcasts
I currently read these blogs on a regular basis: MGoBlog, LifeHacker, Electoral-Vote.com.
My favorite podcast is TWig and lately I've been listening to Inside Renewable Energy with Stephen Lacey (cousin Steve, as my step-father would say). I also love NPR podcasts such as Science Friday, Frontline, Your Health, On Science, etc. I use Winamp to subscribe & download them to my mp3 player (not an ipod).
Professional
I have a BS and MS in computer science, both from the University of Michigan. After school, I worked on web-based B2B apps for Motorola in Tempe, and then worked for Drake Kryterion, building educational/testing software. I currently work as a software engineer at Compete. I'm also a co-founder and technical advisor of iDealDigs.com, a directory & marketplace for listing and finding short-term rentals.
April 01 2009 12:00 pm